"When I became an adult, I put away childish ways . . ." 1 Corinthians 13:11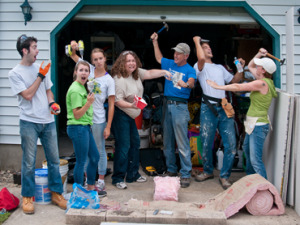 If the Presbyterian Church, U.S.A. breaks out of the doldrums and thrives for generations to come, she will do so because our generation answered God's call to lead her members to a higher level of self-differentiation.
What is self-differentiation? It is the ability to think and act calmly and clearly according to one's deepest values and principles even in the midst of a highly anxious emotional system. People who are highly differentiated can disagree with others over significant issues and still maintain a good relationship with them.
Years ago, I helped two different couples prepare for their marriages. One couple (The Stones) agreed with each other about all the major issues they could identify from religion and politics to child-rearing philosophy and money management. The other couple (The Golds) did not. She was raised Catholic, he was raised Jewish. She was Republican, he was a Democrat. She came of age in rural California, he came of age in urban Atlanta, the deep South.
Conventional pre-marriage counseling would have predicted that the Stones, having everything in common, had a far greater chance of staying married than the Golds. However, the Stones have divorced and the Golds continue to enjoy a very happy marriage. The missing question in conventional pre-marriage counseling is the level of self-differentiation of the couple. The predictive factor I did not include in the brief description of the couples above was how playful the Golds were around their disagreements and differences and how serious the Stones were about everything. The Golds continue to live comfortably with their disagreements and enjoy engaging and teasing one another about canceling out each others' votes on election day. The Stones divorced because they could not accept each other's differing views over the very small issues that inevitably showed up. Mr. Stone's absent-minded habit of leaving the toilet lid up escalated into accusations of disrespect, a spiral of passive-aggressive behavior from both of them, followed by a yelling match that sent Mrs. Stone to the divorce lawyer.
In a counter-intuitive paradox, the playful people are the grown-ups.
What does this have to do with the Presbyterian Church, U.S.A., or any other denomination?
I predict that after our disagreements over gay ordination, gay marriage and the Middle East calm down, we will find different divisive issues in the future (which is as risky a prediction as foretelling market volatility at some point in the future). The pendulum may swing back and forth between conservative and liberal, but we will never go to a General Assembly in which all the votes are unanimous. (How boring would that be?)
Our future health as a denomination does not depend so much on whether we can assume God-like power over the minds of others so that they agree with us and start acting and thinking right. It depends on our ability to love one another in the midst of our disagreements. It depends on our ability to win graciously and lose without resentment. It depends on our ability to speak, not in the tongues of mortals or of angels, but in the language of grown-ups who love each other.
When have you seen church leaders or members of your family acting in a highly self-differentiated way? How has that affected you and your family and/or church?