I'm Neill Morgan, a Presbyterian minister in Gaithersburg, Maryland. Welcome to my tiny corner of the internet. Please pardon my construction while I figure out how to get this page formatted the way I want it.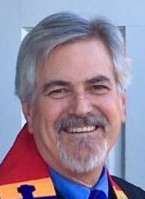 When this page is more fully renovated, you will find reflections on current events and ancient texts from a systems theory and Reformed theology point of view.
If you grew up in a traditional or conventional religious home where the Bible was read literally, and that no longer works for you, you will be happy to find some tools here for reading and understanding ancient texts that will help you move from deciding what you no longer believe to deciding what you do believe.
This is a place where we will seek to understand what we can do to improve the world rather than simply identify who is to blame.
This is a place where we can get to know and understand each other rather than try to rearrange the furniture in each other's hearts and heads.
If you have read this far, I'm going to bet that you're interested in a quiet oasis of thoughtful analysis, an escape from the anxiety-fest of finger-pointing that is our world.