Neill Morgan, at mortalironman.com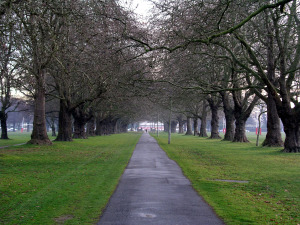 Motivation is a lover who needs and deserves your attention if you expect her to stay faithful to you.
Here's what Motivation wants:
Atmosphere. Keep the environment conducive to her mood by laying out your clothes and shoes the night before. Make sure the shoes, shorts, and singlet look and feel good, that they're not old, stinky, or worn out. You want to get out of bed each morning and tell your Motivation, "Let me slip into something more comfortable."
Frequent Feedback. Tell your Motivation how much she means to you

There's nothing like a healthy resting heart rate and blood pressure to keep you motivated.

with frequent feedback. Weigh often. Measure your waistline. Take your blood pressure and measure your resting heart rate each morning. Test your fitness with a weekend race or a time trial on the track and plot your results on a chart. With frequent feedback, you tell your Motivation, "You make me a better man."
Variety. Lead your Motivation to find joy in the cold weather run, the early morning run in the summer, the run in rain or drizzle, or even the treadmill during a storm. Commit yourself to doing whatever it takes to give her joy on the treadmill, whether she prefers a good crime novel or rock-and-roll in your headphones. Be gentle and adventurous with her, take her on vacation and engage in recreation with her. It will be so much more fun to surf or hike or bike ride or climb a mountain together because she has made you a better man. Don't let her get bored with the same run over and over again. Listen to her and let her tell you with her responses what she likes.
Gentleness. Love your Motivation and never force her beyond her limits or yours. Your increased strength will give you the ability to push your body past discomfort and into the realm of pain. Just because you can doesn't mean you should. Your genetic makeup and your age create a boundary that you must respect. While a little bit of righteous soreness can be delicious, Pain and Injury will alienate Motivation and lock you away in a prison of loneliness, regret, and rehab.
Here's the summary:
Create a seductive environment.
Give frequent positive feedback.
Embrace variety.
Respect boundaries, never use force.
I wrote this in response to a man's question about staying motivated for running, but these principles may apply to other things as well. I can't think of anything in particular, how about you?
I write a new article on fitness, family systems theory, and/or spiritual stuff almost every week. To receive it by email, click here. I won't spam you or share your email with anybody else.